PORT AUTHORITY
Imagine the fastest growing port in the world, surrounded by 3 major railroads, 4 shortline's and 45 railroad headquarters, being captive to ONE carrier. Certainly one rail carrier is a deal killer for many major shipping companies who may be interested in getting in on the action. Imagine directors of the booming port, non railroaders all, thinking the solution is another time killing railroad yard. With a finite amount of money in the city, state and federal pot, how does one fix it?
AIRPORT AUTHORITY
Imagine a solid middle tier International Airport, with highway only access, and captive to regular transit buses which run on hourly headway's only during certain hours. At the other end of these bus routes sits the third largest city on America's East coast. How do one increase not only the air traffic but make the ground transportation more frequent and much more attractive?
TRANSPORTATION AUTHORITY
Finally, imagine one of America's largest cities, a bus fleet that ranks third in a most popular state, and an expressway system through the central city that is going into major construction until 2017. How do the white and blue collar hordes make their daily trek through this morass of endless construction, when the rush hour within the various parts of the metro is already ranked as number 1, 5 and 8 in the state. Imagine this place where drivers tolerate approximately 66 Million hours a year, sitting in traffic. So after the crash of the Orlando Commuter Rail deal(Sunrail), how does one fix this?
INTERCITY RAIL PASSENGER SERVICE
Imagine a one time worlds busiest railroad station, stripped of it's trains, former glory and converted into a Convention Center, albeit with with railroad tracks that pass through within a few feet of it. Another factor for consideration is the current Amtrak Station which is wholly inadequate for the currently planned passenger train services. Poorly located, at the end of an alley in the far Northwest edge of the City and hardly in a welcoming setting, between a truck line yard, a junk yard, and almost under a highway overpass. Jacksonville will never regain it's position as the rail passenger hub of the Southeast without coming home to downtown.
CONVENTION CENTER
A major City, a big, huge, national trade city, chock full of industries, highways, rail terminals, warehouses, docks, port terminals, airports and even mega cargo airports, and they build a convention center more suited to Greenville, South Carolina; Mobile, Alabama; or Savannah, Georgia. Size must not have been a consideration because with well under 90,000 square feet, the Convention Center is only good for local party's and home, gun and antique shows. Know anyone that needs a new lawn mower? lawn chair? BBQ grill? Have we got the facility for you to show your products, just don't bring all of them.
Of course this article is about Jacksonville, Florida, which bills itself correctly as "America's Logistics Center." Yet through all of this dysfunction, the city marches on, looking for, and perhaps finding, a one - size - fits - all solution to every sarcasm I just wrote.
You must understand, with one foot in South Georgia, or Mayberry RFD, and the other planted firmly in the finance and industrial might of Florida, NASA, and the remarkable beaches, we often move at a slower pace. Our location alone seems to propel us forward at times when our politics seem a little too "Dukes of Hazard," to join the modern world. As a Sunbelt City with a world class port, home of the PGA, unspoiled beaches, cutting edge medical facilities, and a Skyline split by a navigable river arguably one of the most beautiful in the world. Add to that a City that constantly scores at the top of business, transportation, and livability articles and surveys. I have faith that we are starting to see the light. Our destiny, to become a first tier international city, sometimes in spite of ourselves.
LET'S LOOK AT 5 STEPS TO A SOLUTION:

I. The Port
A. In transportation 101 everyone learns that in order for a port to compete, it simply can't afford to become captive to a single trunk line railroad.

B. Also in the same class, we should have learned that railroad yards are old technology, time killing wastelands where cars go to sit idle, losing money for their owners. Granted a small facility simply for the pick up and consolidation of outbound traffic may make perfect sense, but anyone with a vision of another "Rice Yard," the massive Waycross, Georgia facility, get it out of your heads.

C. So the City, State and/or Federal Government is going to have to purchase the railroad tracks all along our waterfront. This would include the entire former Seaboard, Fernandina and Jacksonville, Subdivision, from Export Yard near downtown, through Springfield Yard, over the Trout River. All trackage as far as Yulee, or even beyond Kingsland, where the old Seaboard Mainline was cut in South Georgia. This should also include both CSX and NS lines from Grand Crossing, Moncrief and Simpson Yards on the city's far west side.

D. The lease back option would seem to be the answer here. The entire municipally owned railroad would then be leased to one of America's many shortline operators. Shortline's shine in freight service and would be much more customer driven. Light, quick, clean, frequent, and efficient operations that would still deliver the cars to the CSX, JTA and NS interchanges and probably shave the days it currently takes for a car to get across town, down to a few hours.

2. The Airport:
A. Freight to the JTA interchanges? Yes, in this plan the JTA would own two railroad lines with it's own (not a lessee) operations. One of these would be a new branch line railroad that would follow the Airport Road, from the tracks near North Main, through the international trade zone and right into the airport facility. Depending on the layout of the airport terminal, it could serve any form of rail passenger equipment with a possibility of turning it on a circus or balloon track.
B. The fact that it would punch through the free trade zone, already home to many large companies would be just another opportunity to pay the construction bonds.


3. The Transportation Authority
A. Certainly with the death of the Sunrail project in Orlando, and the impending crash of Tri-Rail in Miami, which has not been funded anywhere close to it's needs, this would need to be a carefully laid out plan. Our transportation authority would construct the line into the International Airport (JAX) on the North, and rebuild the entire former "S" line from Jacksonville Terminal to a connection with the freshly purchased Norfolk Southern track into Springfield Yard. Here it would join the former Seaboard Airline for a straight shot over the trout river and into our port, airport, Nassau County, Yulee or even South Georgia.
B. A extra benefit of buying and upgrading these lines is security for our future, Amtrak, soon enough, and when the time comes for some serious High Speed Rail. This will likely be the route chosen, as historically it was considerably shorter between Savannah, and Jacksonville, then the former Atlantic Coast Line which is the current CSX.
C. Between the Jacksonville Terminal and Springfield yard JTA would have the benefit of a short passenger rail route from the station, to Shand's, Swisher, 21ST street, Panama Park, Dunn Av., Airport Road, Airport. The shortline lessee would be able to access these tracks to reach an interchange with the Florida East Coast Ry, at the Jacksonville Terminal.
D. The entire JTA North Commuter Rail line could then be placed in operation without the need for special or expensive deals with CSX or any other railroad. A fleet of RDC cars or Flexliner Trains would go into service as quick as stations and park and ride lots could be completed. This would be as close to a turn key deal as any city - railroad has ever had. Simple, own the track, draw lease income from the same track, pay for the Commuter Rail with freight, 100% in house.
*********************************************************

The Electric 7 - A sidebar on a side track.
"The Electric 7" would be an operation independent of the above railroads would still make use of old railroad track and/or right-of-way, as a light streetcar transit line. While it would cross the "S" it would not have any operation on the new terminal trackage.

There would also be reconstruction of the "S" line northward into Gateway Shopping District and south toward A. Phillip Randolph or Beaver Streets. However these lines would be reserved for rapid streetcar using vintage or replica equipment. A single crossing of the JTA freight-commuter trackage would be required just south of the MLK Expressway.


From a usless old railroad blight through East Jax., Springfield, Brentwood to Gateway Mall, to a beautiful historic Electric Parkway shaped roughly like the number "7". Thus the new moniker: "THE ELECTRIC 7"

********************************************************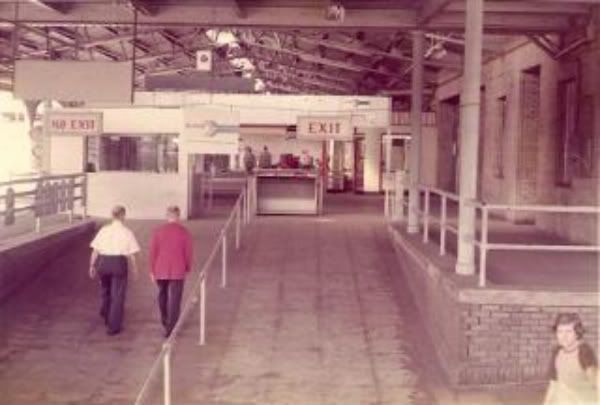 Since a "cave" expedition into the old pedestrian tunnels under the stations old rail yard everyone wants to find the entry. This was it back when it was in it's final hours. Since then a wall of glass doors runs horizontally across this scene about where the two gentlemen are walking. Sadly this area was filled with debris and from the wall to where the photographer is standing is paved over.

4. Intercity Rail Passenger Service
A. Amtrak has several plans, including a 5 train system on each of Florida's intra-state lines. This fast regional service would apparently include the CSX "S" line South, The CSX "A" line South, and the Florida East Coast Mainline South. There are also designs to return the Sunset limited/Gulf Wind route with promised better service, perhaps also a 5 train gulf coast shuttle. North of Jacksonville we have several lines each toward Atlanta, Charlotte, Norfolk, Montgomery, Birmingham, Memphis, St. Louis, Cincinnati, Chicago, Detroit, Cleveland, and many more attractive locations or route combinations. So we are going to get the trains, the question is what are we going to do with them. Meanwhile, we should be at the vortex of every Amtrak service summit meeting in the South, and boy, do we have a place to host them.

B. In order to capture the lions share of the servicing of these trains Jaxson's need to realize the economies of breaking down trains and forwarding them to both coasts of lower Florida. Cars bound for the West being switched out, or cars on originating or terminating trains being cleaned, fueled, iced, catered, laundered. So the bottom line? When 6,500 cups of coffee are loaded on a single dining car, would you like a piece of that action? We simply must return Amtrak to the City Core and move the convention center as soon as possible. Every day we wait the more attractive Sanford, or Orlando, or Tampa, become as THE terminal for Amtrak Florida.

C. In this proposal, we go back to the recommendation of the US DOT back in 1983-85 when a national study of "Transportation Centers" was completed. It clearly stated Jacksonville Terminal needs to be reopened as a railroad and multi-modal station, with no less then 12 tracks.

D. Florida's changing politics has shifted the balance of power to Central and South Florida and suddenly the state DOT is proposing a 3 track station below the flood plain of McCoys Creek. The reasoning behind this is the Park/Lee Street Viaduct was rebuilt about 25 years ago and a bridge that once cleared 10-15 tracks now only clears two. FDOT in their infinite wisdom has suggested the 300,000 Cubic Yards of fill be removed from the old yards, which will take out the remaining pedestrian tunnels and put the whole yard below the flood plain, even if it grows to be more then 3 tracks. Jacksonville needs to grab this bull by the horn and drag FDOT, JTA or any other agency kicking and screaming to force the rebuilding of the Lee/Park street viaduct to a level that provides for 23.5 feet of clearance on top of the historic tunnels and fill. Then force the issue of getting our full compliment of no less then 8 tracks and four platforms, plus a private car track that could hold and service office cars from any of our 45 headquartered railroads. Under no condition should anything be built in the old flood plain, and the FEC should be brought back up to grade, with the tunnel access restored below it.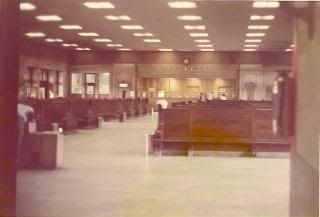 5. The Convention Center
A. This building by the City's own accounting is woefully short on space and poorly located away from the downtown venues, hotels and clubs. As the main exhibit hall was build behind the great 1919 railroad depot, it covers all of the area once occupied by the stub tracks, and part of that once occupied by the through tracks. In fact all of the stations original 32 tracks are gone, with this building and it's parking lot to the west, covering about 20 of them. We could still squeeze in some 10/12 tracks for Amtrak and the Florida East Coast without moving the exhibit hall, but since the hall is a white elephant and something the city itself regrets, we should get it out of the way of the transportation business. If we could salvage the new east - west concourse area, and perhaps 1/4 - 1/3 of the northern end of the exhibit hall building, it could be easily recycled into facilities for intercity buses. This would put the JTA offices and bus station to the west in the former Railroad Post Office site. Amtrak, would have the restored yard south of the 1919 Head house Station, and the restored 1890's station would become a plaza/park area focused on preservation and history.

B. There has been some discussion on moving the Convention Center down to the waterfront near the Hyatt, Jacksonville Landing, or on the Southbank. Anywhere it goes, it should be larger, and if that requires it to be vertical, then lets do it. The station would be connected to any new convention center on the northbank by our Skyway Monorail System and the planned Vintage Streetcars of the Jacksonville Traction Company and JTA.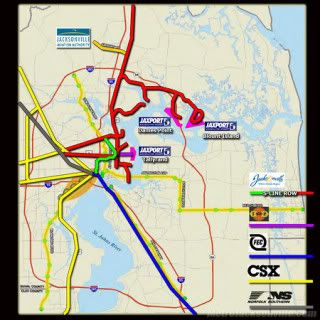 In summary, with a single solution, spun around the rails, our city would have:

A new Convention Center
A "new" Amtrak Terminal
Many more Amtrak trains then at the present time
Control the servicing of all Amtrak trains entering the State, catering, laundry, fuel, etc.
A new Bus/Skyway/Streetcar Terminal at Transportation Center
Transportation Center Parking Garage
New JTA Office Building
Commuter Rail Service through the heart of the historic City
Commuter Rail Rapid Transit into the Jacksonville International Airport
Streetcar lines from Gateway Plaza to Stadium to Jacksonville Terminal and beyond
A Port that has neutral access to 3 major rail carriers, including the FEC
Direct Rail freight access to our JIA International Trade Zone
A method to pay for the entire package via freight revenue and/or lease back

So there it is folks, we change the face and the future of our City with one simple rail project.
marine transport
train
green logistics
public private partnership
rail