F - T - S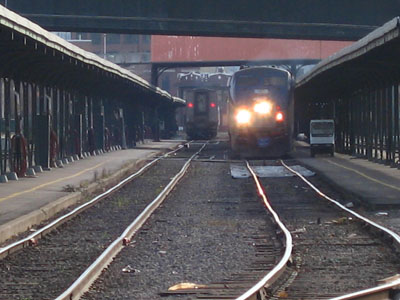 Let me coin a new phrase here, "Flying Train Syndrome," or FTS for short. By now your probably wondering just what the heck the old blogger is up to, Flying Trains indeed. I would beg your attention to a relatively new phenomena. There is a knee jerk reaction to the new funding of Amtrak and the many State and Local governments that want to get in on the action.
Reading newspaper blogs, it seems that the long silent peasantry has scummed to FTS and their mad as hell. The trouble is we have one or two whole generations who have grown to adulthood with a skeletal rail passenger system that could hardly be called a network. Certainly one train a day, or even tri-weekly, on only one out of 4 or 5 possible mainlines is a far cry from what Arlo Guthrie experienced before the hit single "Riding on the City of New Orleans." I really want us as a Transportation Rich Community and America's Logistics Center, to end the confusion over what rail is and what it can do. Hurry along as we look at some of these FTS blog comments, our plane is leaving the station.
After a positive article on Jacksonville Commuter Rail, this comment:
"YAWN, that is the easy way out of saying the proof is in the site, somewhere, just because someone told me it was true....well it must be true. Nah, don't drink the Kool-aid, look around you and see if rail works ANYWHERE in the State of Florida and if it is successful, meaning profitable."
This little sarcastic treat comes from the same gentleman that described Amtrak Trains as just one step above bus travel.
Obviously, our friend has either done very little travel aboard Greyhound, Trailways, Jefferson or other intercity Bus Companies, or hasn't been aboard a train since 1932. The gist of his argument is profit, in fact the entire gauge of success in his mind is making cash money.
This ignores a primary fact in Transportation, a space - time - and public service continuum. In terms of space a rail passenger uses about 5' square feet of space to travel anywhere on the continent. The same person driving an automobile takes up some 85' square feet of space. There could be an argument made that because of the compactness of a train with 200 passengers aboard, it would quickly leapfrog the same 200 passengers in automobiles. This line of cars on the highway would stretch for 3.21 miles. The same load of passengers on the train could be condensed to 1,000' feet, or something just short of 1/5 of a mile. As the world population expands we are growing short on space that can be endlessly covered in asphalt and concrete.
The strongest argument is that rail travel is the most efficient and fuel wise system of transport known to man with the possible sole exception being Zeppelins! So the question becomes how much fuel do we save by train travel? How many acres are still green because of train travel? More pointedly, just how much money did our State Highway System "make" last year? I haven't seen anyone arguing that our airports should be abandoned due to a lack of profit, in fact they would be quick to tell you that the airport brings a city prestige and recognition.
Sorry folks then the measure being used is not a level field at best and at worst it is a type of Mass Transit Snobbery or as someone recently put it, Mass Transit Racism. Amtrak seems the easiest target and this nonsense has flown around the country for nearly 40 years. That trains don't fly is no excuse to abandon the technology. FTS?
From a news Blog Q and A:
"Are we (Jacksonville) ready for light rail, rail, etc.?" And if the answer is no (and in general I think it is), then we'd better put it on the back burner; and if the answer is an undeniable unmistakable strong yes, then build it! We can't just build something and hope that it's a success. I can't even tell (someone help me with this), whether there is a strong, sure public/commuter demand for rail in Jacksonville (is the public ready?).
When is a City, County or State "ready" for rail? Must we reach gridlock on our highways and air before we commit any silver to the rails? In this case Jacksonville is called out by name and that makes this an interesting comment. Jacksonville is the largest city in the nation without a rail transit system, either in population, MSA or land mass. We are told we are far to spread out for rail to work, yet rail works just fine in Los Angeles. Then we are told we don't have the density for rail, yet when we checked the US Census Bureau we discovered we land right in the middle of all cities that already have rail in terms of density. So are we ready? The East Coast Corridor web site just published a study that shows: Jacksonville, Miami and Tampa, drivers waste 200 Million hours a year in traffic. So how does the unknown Giant of Jacksonville rank with the well known cities of Florida, check out our MSA Counties. Oh the humanity:
JACKSONVILLE MSA COUNTIES:
Clay Commute: 33.4 min Statewide rank: 1
Putnam Commute: 30.6 min Statewide rank: 4
Nassau Commute: 28.2 min Statewide rank: 8
St. Johns Commute: 25 min Statewide rank: 19
Duval 23.1 min 25
Flagler 22.9 min 27
Source: Census Bureau 2006 American Community Survey
I think this answers our questions quite well, I'm waiting for that train, streetcar or zeppelin, but wouldn't that be sort of like Flying Amtrak?
From an Online Discussion: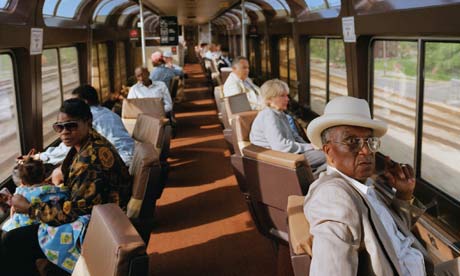 "Anyone seen empty buses? When the buses are filled, demand is there for rail, till then, keep dreaming the dream!"
This is clearly a statement written in ignorance. Any thinking person could reason that a bus that is filled to capacity during the rush hours may be running light in off-peak hours. Even during the peak, bus passenger loadings may fill and empty at several points along the same route, thus not even this is an indicator of demand. Certainly the guy that wants profit in all things would pull out his hair if we were to buy big buses for rush hour and little buses for off-peak times. Frankly with the numbers posted on commute times, we are way behind the curve on getting rail up and running. This would then allow us to redeploy buses that must make the long traffic snarled trek from outlaying areas to the central or satellite city cores. Once this was done the buses would generally run at right angles to the most congested roads and transfer their inbound or outbound loads to strategically placed rail stations. Meanwhile new Heritage Streetcars and the Skyway, Jacksonville's tiny monorail system, completed just another 3 - 5 miles in several directions would serve as a complete distributor in the urban center.
From the Leading E-News:
"Does slower transportation really appeal to the masses? The only way for trains to get back in the mix is to get faster. It's easier to just hop in the car if it's a short trip, and it's faster to fly.Now, if you had a train that could get from here to WPB or ATL in 2 hours, THAT would shake things up and spark interest."
Response:
This is the ultimate case of Flying Train Syndrome. Airline style, point to point, non-stop jet set travel has caused the masses to ignore the booming markets of the smaller and medium size towns and cities. Today in California a trip from Fresno to Bishop is likely to be via Los Angeles. A trip from Wilmington, Deleware to Norfolk, Virginia, via New York City and likewise a trip from Jacksonville to Daytona Beach by way of Atlanta. What the train does is FLY THROUGH not over the country. If taking time to see what is in between isn't going to match your schedule so be it, but try and tell a resident of Ocala, St. Augustine, Macclenny or Palatka, that because you want to experience "fly over country," your needs are superior to theirs. Within the route of a single passenger train, there may be many micro-corridors hidden within the fabric of that single stretch of trackage. As a nation we can no longer afford the fuelish luxury of flying 500 miles to get 100 miles down the track, when this happens, it's train time. Flying Trains Indeed!