All Photos Jacksonville Terminal - from then - until now
bloggers collection available at the State Photographic Archives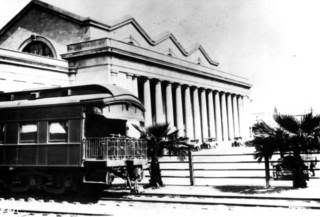 HOW'S YOUR STIMULUS JACKSONVILLE?
Some very interesting numbers are on the screen for the long awaited stimulus, and now it looks like the same old war - Highways -VS- Mass Transit has raised it's ugly head again. I'm getting the feeling some politicians are revisiting the old National City Line's fiasco.
Our die should be cast with superb mass transit, we have it in our cards like no other city. JTA Has shattered ridership records, in fact all over Florida mass transit lifted off during the recent spike in gasoline prices. Some agency's could even be confused with NASA'S many rockets down on the Space Coast. Yet JTA, even with Streetcar, Commuter Rail, Bus Rapid Transit, Skyway, and Enhanced Bus, plans in hand, has asked for NOTHING! The Aviation Authority Director took some drawings and prints of a new super airport to Washington and single handily begged for $7 Billion dollars worth of improvements for Jacksonville International Airport (JAX). The Transit Authority Director has been to Washington many times, but so far no word on his asking for a cent. The timing couldn't be worse for our leadership
We have a stacked deck in the US House of Representatives, with several members not only from our state but from OUR CITY! Not just any Representatives mind you but ranking members of the House Transportation Subcommittee. Even these members are flustered by the city's lack of action. Congressman and friend John Mica recently told me, "Bob get me something in my hands, get me a plan, anything!"
Amtrak, wants to expand and in a recent session at JTA, they confided that they have a plan which would, they believe, operate at a profit in Florida. With Jacksonville as the hub, they want to install a 5 train per route system to kick off Florida corridor services. Folks that would be 15 trains a day South of Jacksonville on 3 different routes, FEC, CSX "A" line, CSX "S" line, not to mention the chance of the "Gulf Wind" from Jax to New Orleans (more recently known as the Sunset Limited LA-JAX). The State has already enhanced capacity on the CSX to New Orleans and they have promised to do the same on the Florida East Coast.
Greyhound wants to move to new digs in Jacksonville as well, something close to a downtown train station (which we've closed for a nearly useless Convention Center suffering from a lack of space. So with Greyhound needing a home, and Amtrak wanting back into the old Terminal as a Florida Hub, the time is right to get that Transportation Center off the drawing boards and on the ground. By the way this center is often called the JTC (Jacksonville Transportation Center), or the "Prime Osbourne Convention Center", this blog will continue to call it by the name carved into the massive masonary over the 14 giant sandstone columns, JACKSONVILLE TERMINAL and JACKSONVILLE UNION STATION.
The Convention Center was subject of a deep study last year to find a new location with much more room. Many, many cities only a quarter of our size have much larger facilities. Orlando has a million square feet, Savannah and Mobile are in the hundreds of thousands, and we sit at about 80,000 square feet in a city that dwarfs these in size and corporate presence. This would seem like a no brainer, get that new center going up down on the beautiful riverfront downtown, and allow the greatest railroad station of the South to breath back to life.
Six million jobs are at stake in the American car industry . . . The only way to save the Big Three is to get people into showrooms, but 1,000 dealerships could close this year. That's 53,000 jobs that could be lost just at the dealerships."
The amendment passed 71-26.
Just four hours earlier, the Senate considered an amendment sponsored by Democrat Patty Murray of Washington that would have pumped an extra $25 billion into public works projects, including $5 billion for mass transit. The $819 billion stimulus bill passed by the House includes $12 billion for mass transit. The Senate bill had only $8.4 billion. Bill cosponsor Dianne Feinstein of California also tried to say the sky was falling. "Our highways are jammed," she said. "People go to work in gridlock."
That amendment failed by two votes. Just when millions of Americans are weaning themselves from unsustainable ways, the pork-brained Senate - with no complaint yet from Obama - remains the slick sales rep for a spent industry.
In Massachusetts, MBTA ridership set a new record with a 4.3 percent rise and the average number of riders per week on commuter rail is the highest in its 44 years. Ridership gains were far more dramatic in cities with younger histories of mass transit.
Commuter rail ridership in the third quarter of 2008 rose between 17 percent and 36 percent in Los Angeles, Dallas, Portland, Maine, Oakland, and Albuquerque. Bus ridership was up between 10 percent and 24 percent in Chicago, Baltimore, Atlanta, and Orange County. Subway and elevated-train rides rose between 11 percent and 14 percent in Atlanta, Miami, and Los Angeles. Trolley and streetcar ridership rose between 13 percent and 20 percent in Memphis, Buffalo, Denver, Minneapolis, and Sacramento.
The stimulus package should boldly be stimulating public transportation. Based on the American Automobile Association estimates of driving costs, the American Public Transportation Association calculates that Americans who rely on public transportation can save $8,368 a year.
Now quickly tell me which city in the state of Florida consistently leads in the sad field of "Longest Commute by car".... Yep, you got it, Jacksonville. Adding more freeway lanes will not change anything, it's rather like putting a band aid on Marie Antoinette's neck. Next tell me which city in Florida has 3 major railroads, with 6 mainlines and several branches, 3 short lines, a world port, a new Cruise Port in the works, River Taxi's and completely belted by Interstate Highways? It sure ain't MICKEY MOUSE.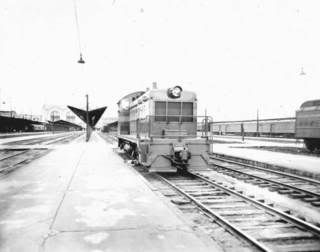 But a Mickey Mouse like cartoon character of leadership or the lack thereof, that they are literally fiddling while Rome Burns. Jacksonville burned to the ground too, on May 1, 1901, in a fire that rivaled San Francisco, Charleston and Chicago. But the Great Jacksonville Fire didn't do near as much permanent damage to our city's livability as this current crop in City Hall and our Transportation Authority. Someday there won't be a stimulus package, someday we won't have ready plans to build, someday we won't have the US House stacked in our favor.
Someday... Jacksonville? It's time to pull our collective heads out!
God have mercy on us, look what we have done behind and to the left of that great hub.
JacksonvilleTerminal
JohnMica
Amtrak
FloridaHighSpeedRail
FDOT
JohnPeyton
JTA