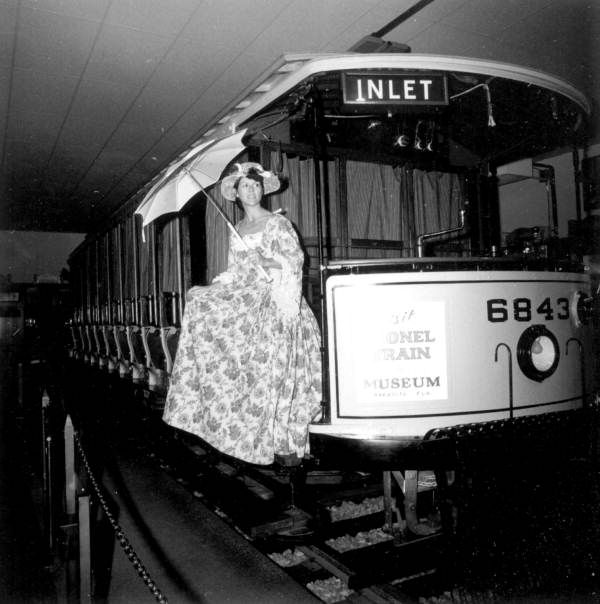 Another POTATO-CHIP-TRUCK-THINKS-ITS-A-TROLLEY bites the dust, this time in Sarasota! Why? Did the Museum Do It? This open streetcar sat for years in a Sarasota Museum before it's journey to find a home and go back into service. Did the memory of this display help? Could Jacksonville build such a display? Was it the success with TECO Transit Oriented Development? Whatever it was that lit the fire under Sarasota, they are now in position to leap ahead of us.

City of Sarasota Believes
Streetcars May be the
Ticket
By Dale WhiteSarasota Herald-Tribune
While Sarasota County considers express buses, the city of Sarasota is thinking about downtown streetcars.

"We're a long way out on planning this," city transportation Susan L. Montgomery stressed.

Even so, the city has taken some preliminary steps.

Developers of The Proscenium -- a proposed hotel, retail, office and condo project at U.S. 41 and Boulevard of the Arts -- are willing to commit $8.2 million to startup costs. That may qualify as matching dollars for a federal grant. If both sources come through, the city may have enough money to build the system and operate it for at least five years.

A few years ago, Sarasota County Area Transit tried a downtown trolley service, on a loop using Main Street and Ringling Boulevard, but it failed. It was essentially a bus (potato chip truck AKA: PCT-Trolley) designed to look like an old-fashioned trolley.

The streetcars would actually run on a rail and have more appeal, Montgomery said.

Yet providing a route for a streetcar could be challenging. Main Street, for example, would most likely lose much of its street parking. "That's a major issue in this town," Montgomery said.