For many years the phrase "Go to the back of the bus," had a terrible and racist connotation to it. Images of Ms. Rosa Parks, refusing to surrender her seat, and the subsequent race riots of the 1960's. From that point on, the terms used to describe poor bus service came to be either, "The back of the bus," or "The short bus".

According to City records, The Jacksonville Traction Company, was successful in ousting the segregation laws by 1930. At that time most of the States of the Southeastern part of the country had strict racial segregation on all public transportation. A recent visit to the Texas Electric Railroad Museum in Plano (north of Dallas) allowed me to see first hand some small brass flag like devices mounted over the rear passenger seats in the coach. When one pulls the lever down a etched sign drops out of the wall that says simply "COLORED".

Commuters as far west as Dallas were apparently separated well into the 1940's, 50's or early 60's. Not so on the true deep south streetcars in Jacksonville. The fact growing up in Jacksonville in this same era, I recall the typical fuss on the bus was who was going to get to sit in the back of the bus! Somehow, perhaps starting with our streetcar routes, we were "Back of the Bus pioneers."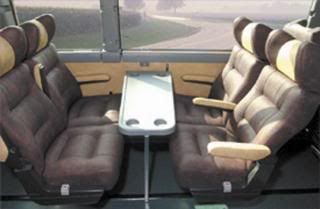 Once again we are toying with a back of the bus experience. As one of the most sprawled cities in the nation, largest in land mass in the lower 48 states, we have some pretty painful commutes. Among the leading congestion area's are service to our beach cities within Duval County, Orange Park in Clay County and Ponte Vedra in St. Johns County. There is simply no way to get to these bedroom communities via bus or car without spending an hour or so stuck in near gridlock.

12 years ago JTA took delivery on 3 MCI (Motor Coach Industries) over the road - Commuter Configured - Motor Coaches. No mere city bus these are the thoroughbred, air suspended, inter-city style rolling salons. People scoffed at the idea that the high rollers in places like Ponte Vedra or Sawgrass would ever ride the bus. Then they tried them out in a joint demonstration program between MCI and JTA.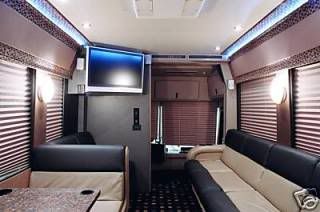 So what did Jacksonville think about them? Here are the surveys...

WS50 Free Ride Survey Results:

9 Total completed Surveys.


Did you like your ride?

Responses: 9 Yes

0 No


Comparable to other JTA buses:

Responses: More comfortable, Quiet, Nice, Climate Controlled, Smooth Ride, Cleaner, Smells Nice.


Like Most?

Responses: Comfort, Reclining Seats, Cleanliness, Quite, Smoother Ride, More Room, Climate Controlled, Spacious.


Like Least?

Responses: No Stewardess, Intercom System, NOTHING, Smell.


Other Comments: It was great, thanks for the free week. We want this bus permanent on WS50! Better bus for 30 minute trip. Great job. Nice to have this bus all the time. Please add TV's to bus. Would be more inclined to ride bus with a bus like this on route.


BH50 Free Ride Survey Results

37 Total Completed Surveys.


Did you like your ride?

Responses: 37 Yes

0 No


Comparable to other JTA buses:

Responses: Wonderful, Better, Great Smell, Ride, Step Above, Don't Compare, Smoother, Less Noise, Personal Space, Clean, Enjoyable, Green to the Environment, The Bomb, No Comparison, Nice Seats, Convenient, Better, More Seats, Want to see it in Service Soon, Computer Compatible, Less Noise, Cozy, Love the Details, Seems like a faster ride.


Like Most?

Responses: Seats, See more Sites, Cleanliness, Individual Lights, Quiet, Comfort, The Driver, Smooth, Coach Style, Luggage Bins, Leg Room, Nice Seats, Reclining Chairs, Electrical Outlets, EVERYTHING, Look, Smell, Fun,


Like Least?

Responses: NOTHING, Overhead Lights, Knowing it Won't Stick Around, Narrow Isles, Entrance Steps, Not Equipped for Handicapped, Narrower Seats.


Other Comments: Thank You! Awesome Bus. BH50 is GREAT! Just thanks a lot! Wish all buses were as nice as this. Keep providing better service. Do not change this bus. With increased taxes, this is what JTA should be like. Want this bus permanent. Get more like this. I like the ride. Please keep this bus on route. Let's keep going JTA, Thank You! Thank You. We need this everyday. Get more buses like this. We need more of these buses, please!


X2 Free Ride Survey Results:

29 Total completed Surveys.


Did you like your ride?

Responses: 29 Yes

0 No


Comparable to other JTA buses:

Responses: Quite, Roomier, Better, Nicer, Smoother Ride, Clean, No Ads on Windows, New Seats, No Comparison, Quieter, Cleaner, Superior, Additional Accessories, Heater works, This is the best, Smell good.


Like Most?

Responses: Seats, Smooth Ride, Very Pleasant, Quieter, Smoother Ride, Seats, It was new and smelled great!, Quite, Heater Works, Reclining padded seats, Reclining Seats, No wind noise, Reading Lights, Comfortable, Blue Isle Lights, Roomier, Bright and Clean, Great suspension, Kudos, High Back Seats, Reading Lights, Adjustable Vents, Smells Good.



Other Comments: Good to have new bus. You're doing a great job! Love it! Overhead storage is seldom used. Very nice. Please consider adding to X2 route! We want TV's showing news, sports, etc. Please remove ads from windows.Buses like this would encourage riders. Keep this bus!



X4 Free Ride Survey Results:

8 Total completed Surveys.


Did you like your ride?

Responses: 8 Yes

0 No


Comparable to other JTA buses:

Responses: No comparison, Clean, Comfy seats, New, Nice, Smooth ride, Likes handles, and reclining seats, Delux.


Like Most?

Responses: Relaxing, Smell, Comfy, Good condition, Everything, Tall backs, Cushioned seats, Quite, Clean, Lighted interior, Nice Bell, No PSAs.


Like Least?

Responses: Hope lights and AC vents last longer, Driver could not operate the AC, Not enough leg room.


Other Comments: I will only ride this bus or one comparable!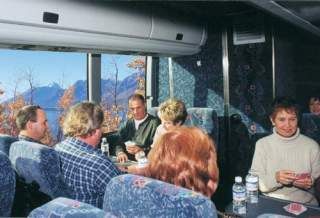 That last comment, "I will only ride this bus or one comparable" says a volume about what is wrong with a City Bus on a long commute and what is right about a proper vehicle. As often happens on long commutes into suburbia the neighborhood end point may be higher income, white collar, executive type, choice riders. These are people who normally would never darken the door of a transit bus.

Many managers and executives see their automobile as a sort of cool down asylum. Though it might mean sitting in traffic for a hour, it's a chance to listen to music or catch up on the news in a familiar, non threatening environment. But what if we could do better? What if he or she could watch the TV news on the way home? What if they could catch up on their notes? Work an hour on the Laptop? Play a game? Use the restroom? Get a cup of coffee? Hold a meeting? Eat a pastry? Wash your hands? Sleep? What if all of this could be done while moving down the freeway in complete security?

While the brand name of the coach may vary from agency to agency, according to local preference, this could be done with MCI, Prevost-Volvo, Silver Eagle, Van Hool or any other line of fine motor coaches.

Until now the deluxe coach has been the exclusive world of the upper end charter and tour business. Maybe it's time for a change. Jacksonville is leading the way in this area, by considering a completely new type of coach.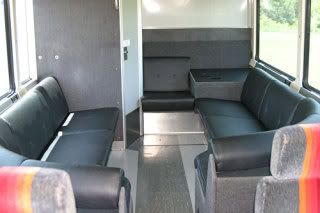 Maybe it's time for a hybrid, part commuter and part railroad lounge car? Ever heard it said that more major business deals have been brokered in the lounge cars of the New York area commuter trains then any other place on earth? Then why has it taken the industry so long to catch that attraction and wrap it up in a coach? While the idea is still in the developmental stage, it's interesting to speculate on the merits of this concept. Indeed if it's ordered in Jacksonville, it won't be a ride but more like a destination. Imagine the possibilities. Go to the back of the Bus? I can't wait.

Photos courtesy of MCI, PREVOST CAR - Volvo, SILVER EAGLE