'

luftschiff

hoch

!' - UP SHIP!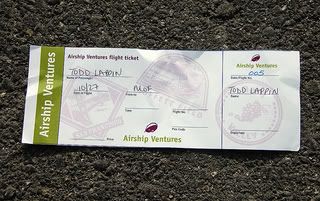 What if ships could fly? What if passengers had roomettes? What if aircraft offered an observation lounge? What if cruise passengers could cross the Atlantic in 48 hours? What if the highest priority shipments

could

make the passage in 48 hours without breaking the bank on a charter 767? What if our flying ship could carry 250,000 pounds? Cargo? Passengers? Express? What if?

Would not the stateside ports that captured these magnificent ships rule the air and sea's for all of the

foreseeable

future? Certainly they would, but it would likewise take some very advanced, out of the box and visionary leadership to

innate

the first contact. The risk involved is limited to the old adage that "someone might laugh."

But this is no Westinghouse-

Tenneco

"Offshore Power Systems" fiasco. For Jacksonville in particular it offers the chance to lead the entire Atlantic and in the event that the new technology takes flight, lead the world.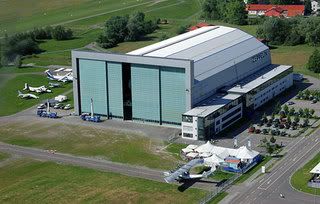 SAN FRANCISCO CHRONICLE

Californians float a plan: Return of the zeppelin
By TERENCE

CHEA

, Associated Press Writer

Saturday, October


(10-25) 19:10 PDT SAN FRANCISCO, (AP) --



Zeppelins, the giant floating airships used to carry passengers and drop bombs until the 1930s, haven't been seen in American skies for more than 70 years.

Now a California company is bringing the iconic aircraft back to the United States, with plans to offer aerial tours of the San Francisco Bay area in a newly built zeppelin. It's one of just three in the world — the others are in Germany and Japan.

Airship Ventures Inc.'s zeppelin arrived in the Bay Area on Saturday, passing over the Golden Gate Bridge en route to its new home at

Moffett

Field, a former naval air station in Mountain View, about 40 miles south of San Francisco.

Fifteen feet longer than a Boeing 747, the 246-foot Zeppelin NT (New Technology) was built in Hamburg, Germany, and transported by container ship to Beaumont, Texas, before a cross-country flight to California.

While they may look like blimps, zeppelins have rigid internal frames that are covered with a canvas hull.

Starting Friday, Airship Ventures will begin offering rides that provide a bird's-eye view of

Napa

and

Sonoma

wine country, the Big

Sur

coastline, San Francisco and other parts of the Bay Area. The cabin holds 12 passengers and two crew members, and tickets start at $495 per person for an one-hour ride.

"It's a way to see the world in a way that you haven't experienced it before," said Brian Hall, a software entrepreneur who started the company last year with his wife, Alexandra. "In a zeppelin, you're flying low and slow. You're going at a leisurely pace. You're seeing things that you wouldn't see from the road."

Invented by Ferdinand

von

Zeppelin of Germany in the late 19

th

century, zeppelins were used for commercial passenger transport and military operations until the start of World War II.

The zeppelin's golden age ended in 1937 when the

LZ

-129 Hindenburg — the largest airship ever built — caught fire and burst into flames in front of thousands of spectators in

Lakehurst

, N.J., killing 35 of 97 people on board.

A German company, Zeppelin

Luftschifftechnik

, began building a new zeppelin about decade ago and has been offering passenger rides since 2001.

While the Hindenburg was fueled by flammable hydrogen, the modern version is kept aloft by nonflammable helium. More than 80,000 passengers have ridden without a safety problem, Hall said.

The Halls came up with the business plan for Airship Ventures about two years ago after Brian, 43, took his first zeppelin ride in Cologne, Germany.

The German company agreed to build another zeppelin so that Airship Ventures could start offering rides from its base at

Moffett

Field, which has three of the country's 13 remaining airship hangars.

Airship Ventures has ordered two more zeppelins, which take about 18 months to build, and plan to offer tours on the East Coast, most likely from New York and Florida, starting in 2010.

Despite the slumping economy, the company hopes to sell about 15,000 tickets a year in the Bay Area, aiming to attract passengers for special occasions such as birthdays, anniversaries and even marriage proposals.

"In a time when you might feel troubled, it's something you can do that's quite uplifting," Hall said.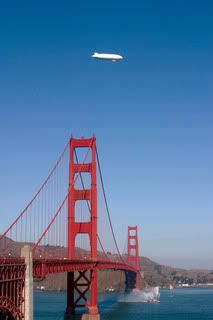 Dames Point-

Broward

Bridge Anyone?
MEANWHILE

BACK IN JACKSONVILLE

By now you should know that it is no dream. The new class of Zeppelin is here, having already crossed the Atlantic and the United States to alight in San Francisco.

Airship Ventures, has one of the new test Zeppelins flying tourists over California for tickets that range as high as $500 dollars each. People are so thrilled that they line up to take photos which are then posted in any number of websites. The old Lighter Then Air

LTA

base a

Moffet

Field, makes for a ready made Zeppelin port.

In Jacksonville, we are likewise blessed. NS

Mayport

,

NAS

Jacksonville, the abandoned

LTA

base at Francis Field (World Golf Village), Craig Airport

JAA

,Cecil and

Imeson

Industrial Parks, all have either: active airship pads, open space to construct facilities or ruins of old airship landing facilities.

So what if

JAA

or

JAXPORT

/

JPA

, were to jump on this "cute" and "touristy" little band wagon? New York to Jacksonville? Amtrak and Cruise Ship tie in? First Coast?
Open your eye's to tomorrows news.

We would certainly have a one-of-a-kind attraction to compliment our new cruise port. Just the thought of seeing an active zeppelin cruising over the city would be enough to draw every aviation buff in the east to our doorsteps. Where else could they Sail the Zeppelin one day, Sail the St. Johns River the next, Sail a kite-board in the Atlantic surf the third, and Sail for Nassau on the fourth?

Then one has to wonder about the future FLORIDA plans. Zeppelin is not standing still on it's research. In fact about one dozen aircraft companies are all actively working on plans to bring back the great airships for both cargo and passenger purposes.

The military is shopping for an enormous radar loop in the sky, while another branch is playing with the Zeppelin as a short-take-off-and-landing (STOL) troop transport.

Okay, says the Port Director... Not a chance says the Aviation Director... We'd like to have Zeppelins, Someday, says the

Transportation

director... We'll be a zeppelin hub after we

build

more roads says the Mayor...

Ladies and gentlemen, in the here and now, this is simplistic rocket science such as the days before Wernher

von

Braun

joined the club in the 1930's. Shall we wait until Port Canaveral grabs the gold ring? Or should we take the small gamble, pick up the phone and reach for the skies?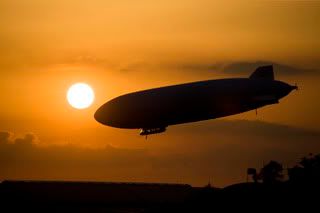 How about a little JACKSONVILLE TRANSIT kick start?



ZLT

Zeppelin

Luftschifftechnik

GmbH

& Co KG


Allmannsweilerstr

. 132
88046

Friedrichshafen


Germany

Tel.:+49 7541 5900-extension number

Department Contact person Extension

number Fax E-mail

Administration/management office Ms Regina

Schäfer

539 22539

r.schaefer@zeppelin-nt.de

Ms Manuela

Zwisler

552 22552 m.zwisler@zeppelin-nt.de

Press Ms

Kathrin

Runge

547 22547 presse@zeppelin-nt.de

OR AIRSHIP VENTURES:
You can write to us at our postal address:Airship Ventures, Inc.NASA Research Park P O Box 345,

Moffett

Field, CA. 94035-0345 You can leave us a message at +1 650 969 8100 or send us a fax to +1 650 969 8101.
All photos credit Airship Ventures, Up Ship, and

Zeppelin

Aircraft Corp.
JacksonvilleAviationAuthority
ZeppelinAircraft
AirshipVentures
ZeppelinNT
Jaxport
FDOT
JTA