MORE OF FLORIDA GETS ONBOARD THE COMMUTER TRAIN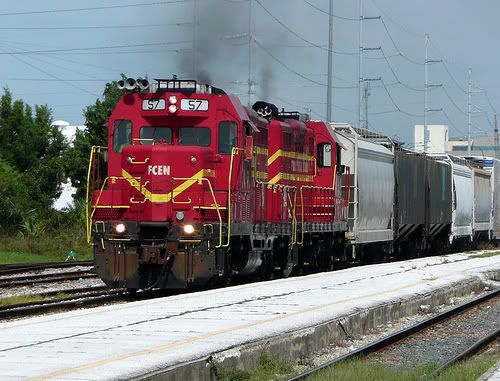 Florida Central Freight heading southbound on the CSX mainline at the Orlando Florida Amtrak (future Commuter Rail) station.

Just an example of creative thought in Commuter Rail. This is called the Mount Dora Champion, (Champion - for the famous ACL passenger train of the same name) a dinner train on the Florida Central, or a ticket to the Magic games in downtown Orlando. Take another look at the photo, think commuter, think a bigger Florida Central locomotive, think dollars not Millions. THINK! It's already there for the taking.

What great news for the good people of Central Florida. The Lake - Sumpter Counties MPO has made it official, THEY WANT COMMUTER RAIL. This is along the lines of the former Seaboard Air Line, Lake Charm (Orlando) Subdivision which is operated today by the Florida Central Railroad. The track extends from Mount Dora and from Umatilla/Eustis to a junction near Tavares, located in the Orange groves north of Orlando. From Tavares the line runs southward through Plymouth/Apopka and into the heart of downtown Orlando. Due to the way the line enters the CSX mainline it misses the new Lynx Terminal which is destined to become the commuter hub of the City, instead it picks up Church Street Station and Orlando Amtrak, as the mainline continues on toward Tampa.
This railroad has already shown a willingness to run passenger trains, being the home to a handful of tourist railroads and train operations. They have continued this with Magic Basketball specials which are usually sold out in advance.
FROM THE ORLANDO SENTINEL:
Lake sees commuter rail line in future


Christine Show Sentinel Staff Writer


December 7, 2008

After throwing support behind Central Florida's main commuter-rail project, local planning officials said they hope consideration is given to a similar passenger line running between the Golden Triangle and Orlando.Lake-Sumter Metropolitan Planning Organization members last week approved a resolution supporting the proposed 61-mile train route from DeLand through downtown Orlando and on to Poinciana. The state Legislature stalled plans for that rail project this spring.But proponents -- namely, U.S. Reps. Corrine Brown, D-Jacksonville, and John Mica, R-Winter Park -- recently said their goals may be aided by the Barack Obama administration, its economic-stimulus plan and an emphasis on transportation and environmentally friendly projects.If that commuter-rail proposal moves forward, MPO officials would like to see Lake County follow close behind, said T.J. Fish, Lake-Sumter MPO's executive director.
"We expect the next step to be the northwest corridor," he said.Plans for the commuter line through Lake call for trains running from Orlando and traveling west and north past Apopka to downtown areas of the Golden Triangle with stops in Eustis and Tavares.Those involved with the main commuter-rail line planned through Volusia, Seminole, Orange and Osceola counties are focused on seeing that project through, said Christine Kefauver, Orlando's transportation manager.But they are open to plans for service in Lake County in years to come, she said."Is it in the vision for the future? Absolutely," she said.Lake-Sumter MPO officials are interested in a rail stop in Mount Dora, but firm plans are not set, Fish said. The city is still considering the best location for passengers to board the rail line -- perhaps on the city's south end, he said.Mount Dora City Manager Michael Quinn could not be reached for comment.A commuter-rail stop in downtown Eustis is something James Rotella, outgoing Eustis commissioner, would like to see. As the MPO's second vice chairman, Rotella supported a northwest corridor route.Once a commuter himself, Rotella became a rail supporter 25 years ago after driving between Eustis and Orlando for work."It improves our mobility and connectivity," he said, referring to commuter rail. "Our biggest problem in transportation is that we have too many automobiles on asphalt. We need to reduce the congestion on the roads we have."MPO officials also discussed a second commuter option -- rapid-transit bus service on highway lanes reserved for buses only. Those routes would run along State Road 50 from Orlando to Winter Garden to Clermont.But commuter rail -- which has been pushed before in Lake without success -- dominated most of last week's discussions.A rail line through Lake County comes with convenience, Fish said. The CSX A-line train tracks are already in place to carry trains from Orlando into downtown Tavares.Although some areas of track need improving, they have good potential for use with a commuter-rail system, said Tavares City Administrator John Drury. And he noted that the timing may be in Lake's favor, too."We'll be looking at the president's new economic-enhancement program," Drury said.The existing tracks already have been used to bring Lake residents to Orlando Magic games. Tavares sold out 12 trips to games this year, with the train carrying about 60 to 80 people each trip. Tavares officials plan 17 trips to Magic games this year."We are a great capture point," Drury said. "It makes sense to look toward the future, going beyond tourist-related activities and looking some day at the possibility of actual commuter-rail service."With the city prepared to make upgrades to the existing tracks, Drury said a commuter-rail line into the county would protect the environment, help spur the economy by creating new jobs and enhance the surrounding communities."The timing couldn't be better," he said.
The amazing thing is the Orlando Commuter Rail project is held hostage by the legislature of the State of Florida. Thus far, they have simply refused to grant CSX (or others - implied) an insurance agreement that would hold the railroad harmless for damages done due to Commuter Rail operations. In effect the State of Florida is holding Jacksonville, Tampa, Orlando and now Lake and Sumpter Counties hostage.
Even more amazing is no one in the Olando MPO seems to realize that Commuter Rail on the shortline FLORIDA CENTRAL would be much easier to achieve then any deal with the CSX.
Certainly the track needs some work, but even so it is good for 20-30 mph today. New ties and ballast, tamping and leveling, would do wonders for the ride quality. The shortline as are most shortline's, is creative and hungry for ways to turn a buck or improve the railroads physical plant. This is a win-win for them and there is no reason to think that if the Counties approached the railroad independent of Orlando or the State, they would be running trains while Orlando is still doing surveys. All of this would cost Penny's on the dollar to what the state has in mind. I implore anyone in those counties to contact this blogger and I will put you on the track of contractors and equipment that will leave you with your jaw agape.
This is totally doable. Please lead on and let's teach our big sister city to the North how its done.
Jacksonville
jacksonville transportation authority
Commuter Rail