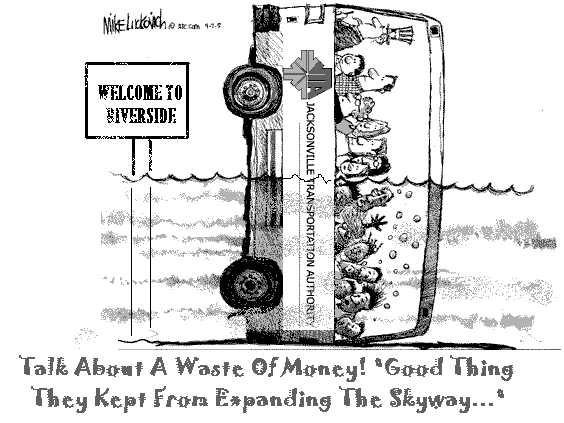 Sometimes, a hard lesson from Mother Nature, can reteach public transit 101. In a generally low laying Coastal Port City like Jacksonville, having just experienced a week of endless rain, an elevated train system like our

Skyway

isn't looking like such a stupid idea after all. In fact if this storm experience proved anything, it's that leaving our monorail system 1/3 finished is

mega

dumb. Funny thing is, three of the 4 unfinished lines of the Jacksonville

Skyway

would go into the hardest hit flood areas. Riverside/Brooklyn, San Marco, and Springfield, all look like inland seas and it's only going to get worse as the water that fell on Central Florida makes it's way north on the St. Johns River - only to "stack up" in the narrows downtown. Meaning the worst of the flooding could still be ahead of us in the areas that can least afford it. A

Skyway

tied to new development, streetcars, commuter rail and bus transit, routed on the dryer high roads, would do wonders for mobility in the next few weeks. But City Hall doesn't want to hear about

Skyway's

, or other pie-in-the-sky projects. We'll study the problem and for the price of the study we could buy

every

citizen of these inner neighborhoods a canoe.