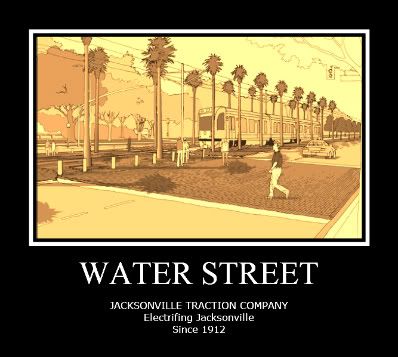 Getting On the Right Track
We can learn from New Orleans, Little Rock and other cities and develop the right transit system for our city without the obstacles and negative side effects being incorporated into the massive BRT fiasco.
By Robert Mann, Based on a original report
By Jason Leach Mar. 19, 2007
A recent piece in the Toronto Star discusses the ongoing battle in Toronto over dedicated streetcar lanes and their impact on neighbourhoods.

Recent issues of Folio, The Florida Times-Union and Metro Blogs/Forums have seen many writers and bloggers come forward with plans for heritage trolleys, modern streetcars or light rail on Jacksonville's main east west corridor – Water Street, Newnan, Beaver or Duval from the Transportation Center to the Stadiums or Phillip Randolph.

I believe that the plans we've presented for JACKSONVILLE TRACTION COMPANY, INC. are affordable, efficient and most of all, will have a great impact on surrounding neighbourhoods. Here's why:
1. Cost.
A 'rapid streetcar' using heritage trolleys or a mix of heritage and modern streetcar vehicles is much cheaper to build than a full LRT system. JTA studied an LRT system, which, of course, is much cheaper than a subway.

The rapid streetcar concept takes the same features of light rail – speed, attractiveness, permanent tracks which draw large private investment and dedicated lanes – but uses slightly smaller vehicles and doesn't require massive relocation of underground services due to the lighter vehicles.
2. Dedicated lanes, but not walls, curbs and obstacles.
A streetcar plan such as the one proposed to run both ways Water Street would see streetcars in their own lane, but would still allow cars to make left turns at most streets and cross the tracks easily and safely. The raised curbs that are a feature of some streetcar lines are rather clumsy obstacles for pedestrians, cyclists and vehicles.

In Portland or most European cities with streetcars it is common to see street parking on the "other side" of the tracks against the curb as well as pedestrians crossing the tracks with their groceries or cyclists crossing the tracks as necessary.

Obviously the train has the right of way, but we aren't talking about a bullet train speeding along killing people. Streetcars are designed to fit perfectly in the urban environment, not act as obstacles.

Streetcars blend into the cityscape. Feel like jaywalking, crossing the tracks on your bike or dropping someone off? Make sure no train is coming and go for it. In fact Jacksonville Traction's own unique heritage is very similar to that of New Orleans. Streetcars operate in center medians and the track is sodded over. The addition of plantings, trees and shrubs once gained us fame as "The most beautiful streetcar line in the world."
More photos here:
http://www.urbanplanet.org/forums/lofiversion/index.php/t103.html
Note – the above photos from Portland show a streetcar that uses the same lanes as cars. Regardless, a double solid yellow line and signage would allow the same design to be used with a system using dedicated lanes. So traffic lane or historic style median, No curbs required.
3. Neighbourhood/retail impact
Let's be brutally honest here. Downtown is a shell of what it used to be and what it could be. In Jacksonville, some shopkeepers feel that the senseless demolition of historic buildings, parking meters with a Gestapo-like control, and endless moonscapes of blank walls, or empty lots packed with the homeless have resulted in bad news for business in the area that always seemed to bustle with activity.

In Jacksonville, six and eight-lane freeways, sprawl, parking meters, broken or inconsistent sidewalks, one way streets and timed lights have killed once-booming retail streets. We have parking coming out of our backsides, but few customers and many less shops, restaurants, hotel rooms or clubs than there should be.

Streetcars-in-lane might slow down the vehicle traffic on Water. Parking would be retained as-is on the edge of the business core and folks could easily turn onto and off of side streets to find curbside parking.

More importantly, people and businesses would begin to show up in large numbers as a result of the streetcar line. The line shown in Portland in the photos above has seen $1.5 billion in private investment within a five minute walk of the tracks since opening.

Another or central corridor down Duval Street has many underused lots and buildings and plans for a massive courthouse complex. A streetcar along with a more pedestrian-friendly environment (think trees and benches along the entire corridor) would revitalize the uptown neighbourhoods that have been ignored for too long. In effect pulling the City both along the river and moving it inland.

LRT which JTA once studied, spaces stops apart quite far. A rapid streetcar would take a medium approach, having stops spaced out further than a typical bus route, but not as great a distance as with LRT.
4. Transportation options
Even though walking or cycling aren't directly mentioned as a benefit of a streetcar, they are natural byproducts of this project. Right now people have one realistic option for traversing our Streets – their car. Streetcars still allow for vehicle lanes, but having lights controlled for the streetcars instead of autos would make it quicker to get from downtown to Union Station-Transportation Center to the core or stadiums in the streetcar. Streetcars can discharge or pick up passengers in the median, since they have doors on both sides. The operator simply makes certain there is no oncoming car or traffic and can open doors left or right, thus there is no need to eat up curb space such as JTA'S proposed downtown transit mall.

Furthermore, balancing the transportation modes on our city streets will automatically result in more cyclists and pedestrians. Cyclists would feel safer to ride their bikes on a normal city street whereas right now downtown streets are not much different than I-95. More shops, condos, restaurants, clubs and hotels and streetcar users means more people getting on and off trains, running errands, going out for coffee or just walking the dog.

Jacksonville would start to look like a proper, urban downtown once again. Public art, benches, trees, flowers, patios and sidewalk displays would turn an empty, concrete canyon into a wonderful blend for local residents and visitors.